The HormoRedux Package
Depending of its availability, you can still acquire the HormoRedux Package - Method, Capsules and Menus - developed for the "North-American Campaign to reduce overweight and improve well-being".
Hurry to fill the form below to request this package before it's too late!

This book is written in plain, everyday language you can understand.
It tells you how to combine your prefered foods in your meals in order to lose all your extra pounds and stay slim forever.
100% NATURAL SUPPLEMENT AVAILABLE IN USA ONLY
HormoRedux Capsules are formulated, produced and packaged under the most stringently FDA supervised and regulated pharmaceutical facilities in The United States. It is reserved to the US market.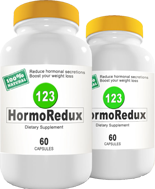 A combination of 100% natural minerals and vitamines are concentrated into a very potent formula that makes anyone lose weight safely and quickly. These elements are concentrated into a capsule that has the advantage of dissolving quicly and being absorbed by the body at the same time as your food. The HormoRedux Capsules get to work within minutes regulating the hormonal impact of absorbed food and restoring to your organism all its original metabolic capacities.
The combined effects of the HormoRedux capsules with the HormoRedux eating method guarantee you the fastest and most natural weight loss.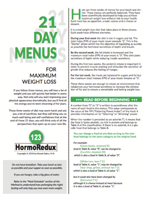 Three weeks of menus
These menus are perfectly balanced. They have been scientifically developed to help you achieve maximum weight loss without risk to your health. Each meal has an appetizer, a main course and a cheese or dessert.
If you follow these menus, you will lose a lot of weight and you will quickly feel better in every way. Not only will you start improving your physical appearance dramatically, but you'll find all the energy you've been dreaming of for years.
These three weeks are enough to create an environment that rebalances your hormonal secretions to increase the elimination of fat and to ensure a remarkable and lasting weight loss.
---
Pre-Order Form
NO CREDIT CARD ASKED - NO PAIEMENT REQUIRED
Upon reception of your message, you will be informed about the availability and the conditions for receiving the available parts of the HormoRedux Package - Method, Capsules and/or Menus.
Thank you for your interest!